Welcome to Beauty of the Beasts, home of fun and flashy dog and agility t-shirts for 16 years!


Looking forward to seeing everyone soon at Star City K9, Louisville, and NAC!

New tshirts from our Mosaic series: Belgian Sheepdog, Malinois, Rough and Smooth Sable Collie, Tri Collie, Red Dobe, Red and White Border Collie; Spotlight series: Rottie and Malinois; Woodcut headstudy series: Lab, Dobe (new version!), and Dutch Shepherd; Swirls series: Dutch Shepherd and Berner, embroidered Swirls series: Heart Paw, Sheltie, Border Collie, Dobe, Belgian Sheepdog and Malinois jackets. Other highlights: Let Your Dog Inspire You; My Dog Makes Me Look Good; Terriers Think They Are God, and many more!

We always sell out of some sizes the closer we get to Christmas, so please order as early as possible for best selection. Just click on our HOW TO ORDER link to the left to order by email or by phone.

If you just can't decide what to get, ordering a gift certificate is easy! Just click on 'Gift Certificates By Email' to the right and email us To, From, Amount and message of your choice to place your gift certificate order by Dec. 19.

Back in stock: Heart Paw Embroidered tiedyed zip hoodies - hurry up and get them before they sell out again! You can see the tiedyed hoodie on our holiday graphic below, if you want to order before we have the details online, just call us or email for measurements etc.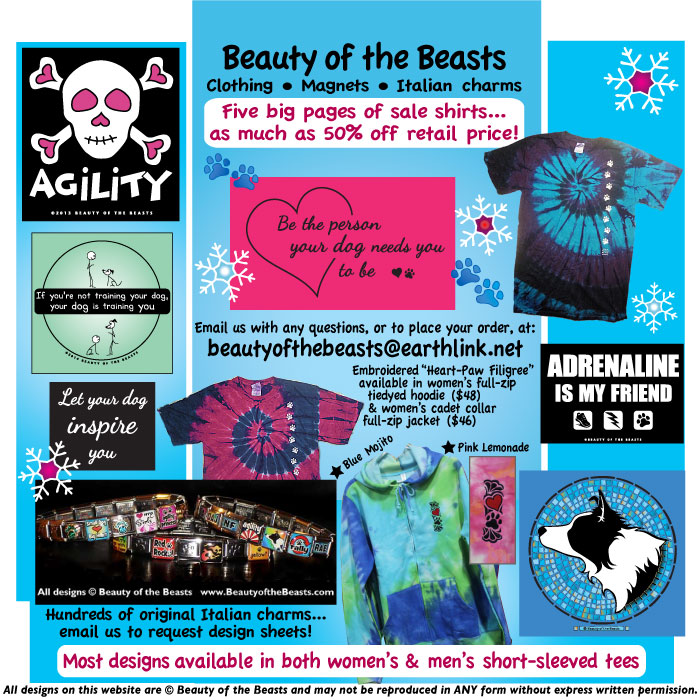 Beauty of the Beasts offers long- and short-sleeved tees featuring dog breed, agility, barn hunt, nose work, and flyball themes and more. We have a wide range of realistic and cartoony designs, all original! We also carry vehicle magnets with performance and breed themes, and 9mm, superlink and megalink Italian charms in full color.

Please bookmark us so you can easily check back for new additions, always updated on our NEW DESIGNS page. Along with our hundreds of original dog shirts, check out our dog breed bone magnets such as Border Collie Bus and Sheltie Shuttle, and Agility, Nose Work, Barn Hunt, etc.) and our Italian charms. We have Italian charm designs for many breeds as well as Agility, Barn Hunt, Nose Work, Rescue, Memorial, General Dog Themes, many more... and custom name charms are only $3 more than our stock designs!

Check out our popular Swirls design series in Agility, Obedience and Rally; American Cocker, Australian Shepherd, Bearded Collie, Belgian Malinois, Belgian Sheepdog, Belgian Tervuren, Border Collie (two versions), Border Terrier, Boston Terrier, Boxer, Cardigan Welsh Corgi, Cavalier King Charles Spaniel, Chinese Crested, Collie, Doberman Pinscher, English Springer Spaniel, Flat-Coated Retriever, German Shepherd, Golden Retriever, Labrador Retriever, Papillon, Pembroke Welsh Corgi, Poodle, Pug, Rottweiler, Schnauzer, Scottie, Shetland Sheepdog, Weimaraner, and Westie!

For online orders... most non-sale shirts are only $18 each... and 2 tees ship Priority Mail anywhere in the US for just $5.60. Italian charms and sparkly dog magnets only $1.50 shipping for 1 to 4 items, $2.50 shipping for 5 or more.

TSHIRTS AVAILABLE IN THE FOLLOWING BREEDS: American Cocker Spaniel, American Pit Bull Terrier, American Staffordshire Terrier, Australian Shepherd, Bearded Collie, Belgian Malinois, Belgian Sheepdog (Groenendael), Belgian Tervuren, Border Collie, Boston Terrier, Cardigan Welsh Corgi, Chinese Crested, Collie, Dalmatian, Doberman Pinscher, English Springer Spaniel, German Shepherd, Golden Retriever, Labrador Retriever (Black, Chocolate, and Yellow), Min Pin, Papillon, Parson Russell Terrier, Pembroke Welsh Corgi, Poodle, Pug, Rottweiler, Rough Collie, Schnauzer, Scottish Terrier, Shetland Sheepdog, Silky Terrier, Weimaraner, West Highland White Terrier, and Yorkshire Terrier. We also have some great mutt shirts! Many breeds are also available in our original Italian charms--you'll find the list on our charm page.


Trouble viewing the images on our site? Click here for some solutions.
By using Beauty of the Beasts' website, you agree to abide by our Terms of Use.
All designs on this site © 1997-2017 Beauty of the Beasts and may not be reproduced in any form without express written permission.
Please email your order to beautyofthebeasts@earthlink.net. After we give you your total with shipping, you can send us a check or money order, or pay by credit card using the link below that will take you to PayPal's secure server.