Check out Beauty of the Beasts' SALE PAGES--lots of great items at deep discounts to make room for new designs! Check out SALE links on the blue bar to the left. Prices on sale pages are up to 50% off!
ALL NEWER DESIGNS AND MANY OLDER DESIGNS ARE STOCKED IN WOMEN'S SHIRTS.
Click any design image below to see it larger. Check below each design image for colors and styles offered in that design. If a design is available in a women's short- or long-sleeved tee, it will be mentioned specifically under that design. Please scroll down past all the design thumbnails for PRICING, SIZING and CARE INSTRUCTIONS, and HOW TO ORDER (billing and shipping info, etc.)
We have lots of new Italian charm designs! Original Tervuren, Belgian Sheepdog and Malinois charms... just ask to see a jpg of what we currently have in stock. Also be sure to check out our magnet page for a listing of available colors for our original Belgian Bus, Terv Taxi, and Malmobile bone magnets.
Click here for our Belgian embroidery page!




Please check out the design images below to see our other recent designs, plus the colors available in short-sleeved and long-sleeved tees for each in the caption below each thumbnail... and see our Malinois Rescue design after the thumbnails.
If you're having trouble viewing the images on our site, please email us and we will be happy to either email the graphics you're interested in (based on the captions) directly to you, or mail you a printout of the webpage.
BEAUTY OF THE BEASTS™ PRICING FOR SILKSCREENED BELGIAN SHIRTS
SHORT-SLEEVED TSHIRT, MEN'S AND WOMEN'S
100% heavyweight cotton
S-XL $18; XXL $19; XXXL $20

LONG-SLEEVED TSHIRT, MEN'S AND SOME WOMEN'S
100% heavyweight cotton (women's long-sleeved is lighter weight)
S-XL $22; XXL $23; XXXL $24
For both short- and long-sleeved tiedyes and Stained Glass designs, please add $2.
Our men's t-shirts are unisex sized and generously cut, women's cut tees are shorter in arms and length, with a relaxed body fit (width similar to the men's cut). Email us the measurements of a shirt that fits you comfortably if you're not certain of which size to order, and we'll help you choose.
SIZING:
All of our designs are printed on men's shirts, and more than half on women's shirts, too. If a design is available in one or two colors in a women's tee, you will find that information specified under the thumbnail for that design. We want to be sure you get the best possible fit on your first try, so please take advantage of the measurements we provide for your convenience. Click
here
for width and length measurements for men's and women's shirts. If you're still not certain of which size to order, just email us the measurements of a shirt that fits you comfortably and we'll help you choose. This is much more reliable than going by the size tag on a shirt, since women's sizes especially vary widely.
SELECTION:
Since we carry so many designs, it's possible we could be out of your first choice of color or style, especially in the months preceding the holidays. If so we will let you know what else is available in your size in that design... or if the design happens to be on our printer's schedule in the next month or two, we may also be able to backorder it for you.
TIE DYES and GARMENT-WASHED SHIRTS:
Garment-washed shirts are hand-dyed, and as a rule they WILL bleed somewhat for the first couple of washings. They should be washed in warm or cold water, never hot and never with bleach. Wash separately the first time or two, and with similar colors after that.
3x SHIRTS:
Unfortunately the mills do not produce 3x tshirts in as wide a color range as S-2x, though they have added quite a few more colors in the past year. Colors we usually carry 3x shirts in are ash, black, carolina blue, heather grey, indigo blue, khaki, iris, lime green, maroon, pale yellow, purple, red, stonewashed blue, and turquoise, depending on the design.
SHIPPING:
We usually ship USPS Priority Mail, and shipping cost is determined by weight and distance, no additional handling charge. For instance Priority shipping within the US is $4.95 to $5.65 for one to two shirts, $6.95 to $10.40 for three shirts or a heavier item such as a hooded sweatshirt or jacket, depending on weight and distance from western Pennsylvania. FYI we can fit a LOT of shirts into a Priority flat-rate box for $11.95 shipping and insurance (on average 8 to 10), or send FedEx or UPS Ground... so if you're more than a couple of states away, you can still do your shopping without spending a fortune on shipping.
For shipping to other countries, please email us the number of shirts you would like to order, along with approx. size(s), for an estimate. Please see 'How to Order' page for complete ordering info. Thanks!
HOW TO ORDER:
Please click
here
to email us your order. Please provide the following information in your message:
- Full name, address and phone number
- Description of each item:
Design name
Type of item (i.e. long-sleeved tee, magnet)
Size
Color (including second color choice if applicable)
Quantity
- Method of payment
We accept payment by check or money order in US funds; credit card through PayPal or by phone (MC, Discover, VISA). Upon receiving your order, we will check inventory, and email you back with your total plus shipping, as well as to let you know if any of the items you ordered are out of stock. Once we've given you your total, you can either mail us your payment, or pay by credit card.
Note: we use PayPal's secure server to process online credit card transactions. If paying by credit card, please do not email your card info to Beauty of the Beasts--once we let you know your total with shipping, you can proceed to PayPal's secure server using the PayPal checkout button at the bottom of the each page on our website to enter your card info. We can also take your card number by phone and process directly (as we do with orders taken in person) if you would rather not pay online--please call us at 412-521-4817 and if we are out of the office, leave us your contact information and best times and days to call.
Check out our SALE pages for discontinued colors and designs not listed here!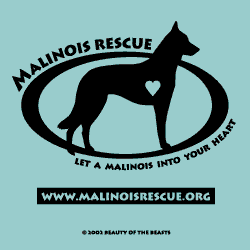 See color and size selection below for the Malinois Rescue design. Beauty of the Beasts will donate all profits from the shirt to ABMC Malinois rescue, so buy a shirt with the knowledge you're helping a Mal in need! And if you order any other Belgian items online and mention Malinois rescue, Beauty of the Beasts will donate 20% of our profits on those items to ABMC rescue as well.
MALINOIS RESCUE SHIRT
LONG-SLEEVED MEN'S TEE . . . S-XXL $21-$22
Stonewashed Blue (S only), Heather Grey (S through XXL)
LONG-SLEEVED WOMEN'S TEE . . . S-XXL $21-$22
Red (S through XL)
SHORT-SLEEVED MEN'S TEE . . . S-XXL $18-$19
Heather Grey (S, M, XL and XXXL only)
Violet (M through XL), Ice Blue (XL only), Stonewashed Green (M only), Dusty Rose (L only)
SHORT-SLEEVED WOMEN'S TEE . . . S-XXL $18-$19
Heather Grey (S through XXL), Violet (S through XXL), Ice Blue (S, M, XL and XXL only)
MEN'S CREWNECK SWEATSHIRT . . . $28 Heather Grey (L and XL only)

Finally, a frequently asked question: What's in the small print on the 'Never a Dull Moment' shirts? The small print on the Never A Dull Moment Malinois, Tervuren, and Belgian Sheepdog shirts reads:
BENEFITS: Proven to enhance owner's health & vitality. Promotes cardiovascular fitness. Natural aid to mental alertness.
WARNING: Contains pure unadulterated energy--excessive use will result in sleep deprivation.
ACTIVE INGREDIENTS: Sharp ears, good nose, big mouth.