Welcome to Beauty of the Beasts, home of fun and flashy dog and agility t-shirts for over 12 years!
Looking forward to seeing everyone this week at Malinois Nationals in Gettysburg! Also please visit the WellFedK9 booth at Rottweiler Nationals... Cinnamon will be there with our brand-new Stained Glass Rottie design!
We extended the deadline for CPE Nationals shirt orders from May 1 to May 16 to accommodate as many people as possible, but after the 16th we will need to print the order to be sure everything is sorted, bagged and checked in time for Nationals. So please be sure to mail your order to us by Thurs. the 9th to make sure we receive it in time for the print run! We'll be out of town at Malinois Nationals with limited email access through May 12, and will email receipt confirmations on the 13th and 14th.
The CPE nationals shirt order form can be found at:
http://www.k9cpe.com/premiums/2013nationalshirtorder.pdf
COMING SOON... Our new Stained Glass series as seen at Nationals in Tulsa... in Border Collie, Sheltie, Golden, Malinois, Rottie and Paw versions! And finally our new Aussie Spotlight design!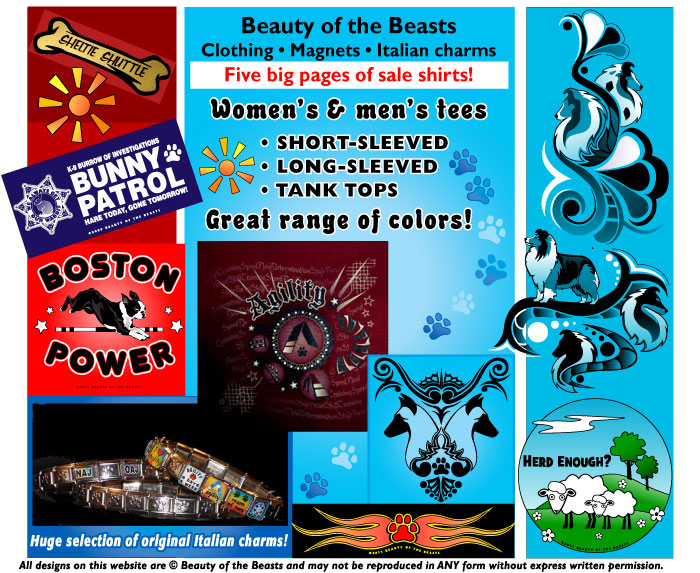 Beauty of the Beasts offers long- and short-sleeved agility shirts featuring dog breed, agility, clicker, earthdog, obedience and flyball themes. We have a wide range of realistic and cartoony designs, all original! We also carry vehicle magnets with performance and breed themes, and 9mm, superlink and megalink Italian charms in full color.

We've added over 25 new shirt designs to the site this winter, including two Nose Work designs, a new Handler in Training design, our first Therapy Dog design, Great Dogs Live on in my Heart, Old Dogs and Wine, Whatever Happens on Course, a new Agility Forever design, a Teacup Agility design, new Aussie, Belgian Sheepdog, Bernese Mountain Dog, Border Collie, Cocker, Collie, Dobe, Golden, Rottie, Scottie, Sheltie, Terrier, Terv, Westie shirts, and more, as well as Obedience and Rally Swirls designs! (still coming up... Corgilicious Cardi, Brittany headstudy and a few more designs in the Rocks series). And as always, we are phasing out some older designs as well as some colors and styles in newer designs. We've also recently updated the following charm design sheets: Agility, Border Collie, Cavalier, Rally and Obedience, and Dog Themes... And added a dozen cute new Nosework charms, just drop us a line to request the design sheet!

Please bookmark us so you can easily check back for new additions, always updated on our NEW DESIGNS page. Along with our hundreds of original dog shirts, check out our dog breed bone magnets such as Border Collie Bus, Jacks in Back, and Sheltie Shuttle, plus Agility, Rally, Herding, Earthdog, etc.) and our Italian charms. We have Italian charm designs for many breeds as well as Agility, Hunt and Field, Tracking, Rescue, Memorial, General Dog Themes, many more... and custom name charms are only $3 more than our stock designs!

Check out our Swirls designs in Agility, American Cocker, Australian Shepherd, Bearded Collie, Belgian Malinois, Belgian Sheepdog, Belgian Tervuren, Border Collie (two versions), Boston Terrier, Boxer, Cardigan Welsh Corgi, Chinese Crested, Doberman Pinscher, English Springer Spaniel, German Shepherd, Golden Retriever, Labrador Retriever, Papillon, Pembroke Welsh Corgi, Poodle, Pug, Rottweiler, Schnauzer, Shetland Sheepdog, and Weimaraner! Other Swirls designs also done and to be added to the website soon: Border Terrier, Collie, Flat-Coated Retriever, Scottie, Westie, Obedience, Rally. Stay tuned for more breeds this winter!

For online orders... most non-sale shirts are only $18 each... and 2 tees ship Priority Mail anywhere in the US for just $5.65! Italian charms and sparkly dog magnets only $1.50 shipping for multiple items, $2.50 shipping for 5 or more.

TSHIRTS AVAILABLE IN THE FOLLOWING BREEDS: American Cocker Spaniel, American Pit Bull Terrier, American Staffordshire Terrier, Australian Shepherd, Bearded Collie, Belgian Malinois, Belgian Sheepdog (Groenendael), Belgian Tervuren, Border Collie, Boston Terrier, Cardigan Welsh Corgi, Chinese Crested, Collie, Dalmatian, Doberman Pinscher, English Springer Spaniel, German Shepherd, Golden Retriever, Greyhound, Jack Russell Terrier, Labrador Retriever (Black, Chocolate, and Yellow), Min Pin, Papillon, Parson Russell Terrier, Pembroke Welsh Corgi, Poodle, Pug, Rottweiler, Rough Collie, Schnauzer, Scottish Terrier, Shetland Sheepdog, Silky Terrier, Weimaraner, West Highland White Terrier, and Yorkshire Terrier. We also have some great mutt shirts! Many breeds are also available in our original Italian charms--you'll find the list on our charm page.


Trouble viewing the images on our site? Click here for some solutions.
By using Beauty of the Beasts' website, you agree to abide by our Terms of Use.
All designs on this site © 1997-2013 Beauty of the Beasts and may not be reproduced in any form without express written permission.
Please email your order to beautyofthebeasts@earthlink.net. After we give you your total with shipping, you can send us a check or money order, or pay by credit card using the link below that will take you to PayPal's secure server.